ABOUT NITTOC
Company information page
We aim to "complain from customers" 0 "" We strive to become a company that keeps pace with prompt response and customer's voice every day

Message
As a comprehensive department store of construction machinery from the founding of our company in 1990, our company ranges from sales, repair and leasing of construction machinery and special cars to sales, repair, leasing and rental of construction materials, sales of scoops in the construction industry We dealt with everything we need and supported the local construction industry. In recent years we have also begun selling and leasing of snowplow vehicles and will make every effort to meet the demands of all customers so that the lives of customers living in the country of snow will be better. Our strengths are overwhelming purchasing power, our company has a repair factory and solid technical capabilities as strengths, and our goal is to make customer claims zero. We also recognized the conservation of the global environment as a priority issue and have focused on continuously reducing the environmental impact in our business activities. Recognized as an initiative for the environment, we have won "Environmentally Friendly Automotive Workshop, Niigata Transport Branch Award Commendation Award" for four consecutive years since 2010. We will continue to work with all our employees so that we can respond to everyone's encouragement in the future so we appreciate your further support and guidance
CEO Takayuki Nakajima
Corporate Profile
About corporate information and our partner
Corporate name
NITTOC.,Ltd.
Address
525 Shitagura, Uonuma-shi, Niigata Japan 949-7401
TEL/FAX
+81-25-794-5700 / +81-25-794-5757
Established
20th March 1990
Executives
Takayuki Nakajima
Capital
JPY 20,000,000
Employee
35
Business activity
Sales, rental and repairs of construction equipments/snow plow
PublicWorks
Certification
Niigata Prefecture Public Safety Commission No.461230000448
Certification
ISO9001/ISO14001
Member
All Japan Rent A Car Association/Japan Construction Machinery and Construction Association
Agency
Specific voluntary inspection agency of NIIGATA Labour Bureau
Automotive decomposition maintenance business authentication factory
Royal partner of Caterpillar Japan LLC
Subcontract factory of SAKAI heavy industries.,Ltd
Specified service factory of KATO WORKS CO.,LTD
Specified service factory of KYB Corpotration
Member and Sales cooperation factory of NIIGATA ISUZU.,LTD
History
Corporate History
1990

Started business as an automobile damages liability insurance agent




Authorized by the Niigata Public Safety Commission (KOIDENo.488 Car Dealer)




Hokuetsu Caterpillar Contracted as sales cooperation store and certified factory of Mitsubishi Construction Machinery Sales Co., Ltd.

1991
Acquisition of permission of examination registrar from Niigata Prefecture Labor Standards Bureau
Registration number New 188
Vehicle construction machine
 For leveling, transportation, loading drilling, demolition
 For foundation work
 For raw concrete
 For compaction
Aerial work vehicle
Rough terrain carrier
Forklift
1993
Member of New Caterpillar Mitsubishi National CAT Star Shop
1994
Contracted as Niigata Isuzu Motor Sales Sales Cooperation Store
1996
Niigata Land Transport Bureau permits rent-a-car No.1061号
New building completed completion
1998
Certified as certified factory of Niigata Land Transport Bureau 55-11752
2001
ISO9001:2000 certified
2002
Lease permit from Niigata Land Transport Bureau No.1751
Contract as a Kayaba Industry Service Factory
Contract as a KATO WORKS CO.,LTD Service Factory
Acquisition of construction license
Civil set of general construction industry 14-40952
2003
Start selling energy-saving LED lighting fixtures
LED Lighting Equipment Manufacturer Co., Ltd. Authorized dealer of Ecomax Japan
2006
ISO14001:2004 certified
2010
Niitaga Transport Branch office Directore's award on Environment-friendly automobile related businesses
Participated in Niigata prefecture incandescent light bulb reduction promotion council
Introduction of small energy LED lighting fixtures to the floor on the 2nd floor of Sanjo City Hall
Introduction of small energy LED lighting equipment to Uonuma City nursing home for the elderly
Introduction of energy-saving LED lighting equipment to the whole of the former Kawaguchi office building
2011
Get a radio station license license
Niitaga Transport Branch office Directore's award on Environment-friendly automobile related businesses
Developed small hydropower generator and Introduction to agricultural irrigation canal
Attended the prefecture-sponsored lecture received evaluation from Niigata Prefecture
2012
New building completed completion
Niitaga Transport Branch office Directore's award on Environment-friendly automobile related businesses
Acquired permission from Uonuma city, Niigata Prefecture, installed small hydropower generator
2013
Niitaga Transport Branch office Directore's award on Environment-friendly automobile related businesses
Developed Unit 2 of Small Hydropower Generator, approved from Uonuma City and installed
2014
Niitaga Transport Branch office Directore's award on Environment-friendly automobile related businesses
Certified as Hino Motors sales cooperation store
Start overseas export business
2015
Building expansion and Second factory completed
Certified Furukawa Unic Co., Ltd. service factory
Certified Yanmar Construction Machinery Cooperation Store
2016
Opened Nagano Sales Office
2017
Certified Japan Caterpillar Royal Partner Club
Nittoc Co., Ltd. adopts the quality and environmental management system based on ISO 9001 and ISO 14001, maintains and improves quality, promotes systematic and continuous promotion of environmental conservation activities, improves customer satisfaction, and reduces environmental impact We have obtained ISO 9001, ISO 14001 certification for the purpose. We aim to establish a stable management foundation with the aim of becoming a company that responds to changing needs by prompting our customers with safety and security through extensive experience, wide knowledge and reliable technology.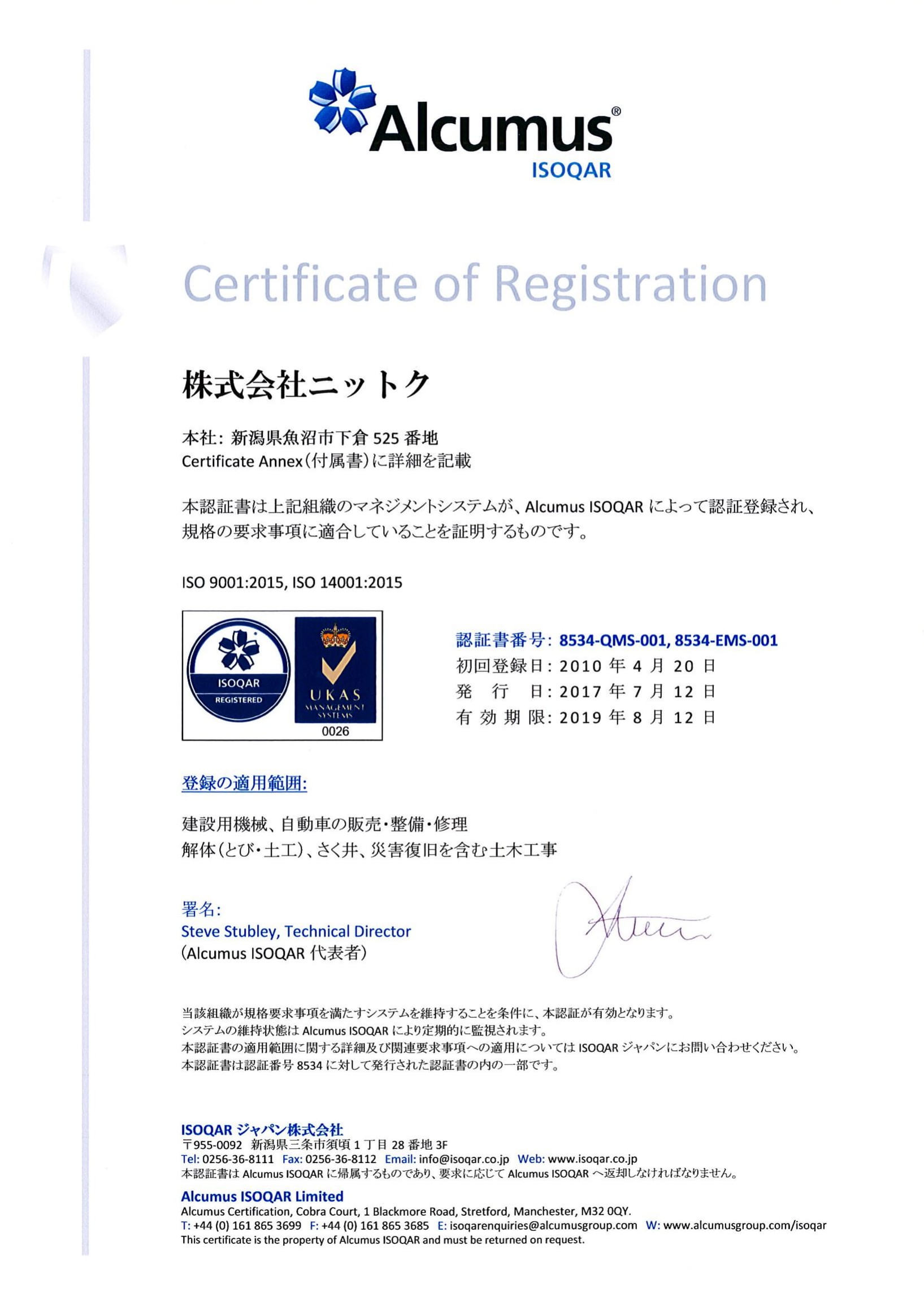 We aim for customer's complaint "0". We aim to improve technology every day as an organization trusted by customers.
Construction machines that we rent and lease are ordered from various manufacturers, and we provide more optimal machines according to customer's needs. We understand what customers are seeking, aiming for a smooth partnership with communication and trust, providing technology and services. We are promoting thorough employee education and individual skill improvement, actively acquiring qualifications and participating in training sessions. Through construction machinery, we are actively building relationships with local communities, such as disaster recovery support, environmental problems, recycling activities.